Rustlers Beat Thunderbirds for Second Straight Time
January 24, 2017 by Bob Ludwig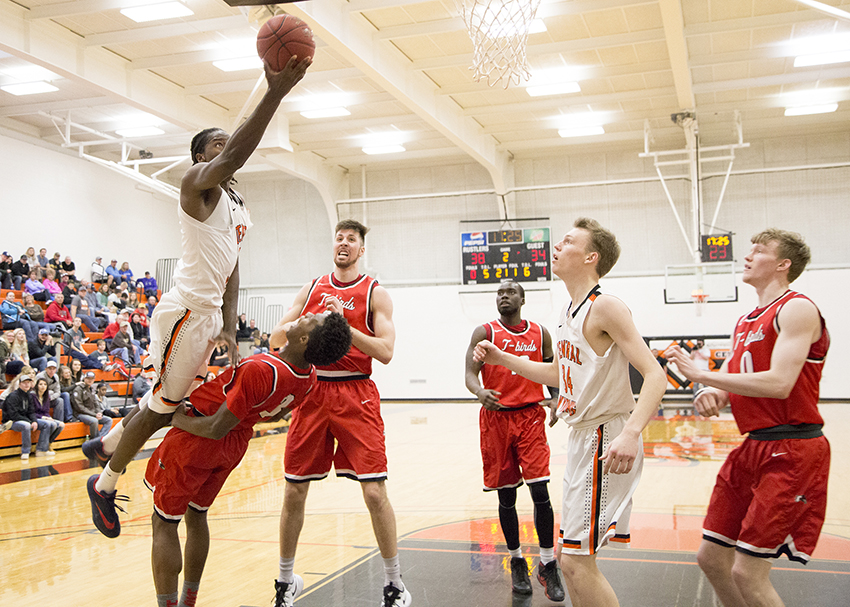 The Central Wyoming College men's basketball team earned a split in their Region IX games this week, following up a tough 75-89 road loss to No. 17 nationally ranked Gillette on Wednesday with an 80-66 home victory versus rival Casper College on Saturday in Rustler Gymnasium. The win moves the Rustlers to 3-1 in Region IX North divisional play.
Tonight was the ultimate 'team' win. Every guy in our program contributed in some way or another and for us to get a win like this after we dropped one on Wednesday says a lot about our team. "

Jack Nelson, head coach
All five starters were in double figures Saturday night, led by Irshaad Hunte with 16 points. Devon Colley had 14 points to go along with four assists, while Chris Quayle and Marcus Nolan had 11 and 13 points, respectively. Starting forward Alihan Demir also chipped in 10 points and six rebounds. Nick Brannon contributed a stat-stuffing offensive performance off the bench of 11 points, five rebounds, two blocks, two steals and two assists.
The Rustler defense was locked in all evening, holding the Thunderbirds to just 36.5 percent from the field while shooting 48.3 percent. Despite being out-rebounded 38-35, the Rustlers held an edge in several statistical categories including assists (16-7), turnovers (7-13), points in the paint (44-30) and points off turnovers (11-6).
The team travels to Sheridan College to play the Generals in a 7:30pm tip-off this Wednesday. Both teams are 3-1 in Region IX North standings. They will then return home this Friday for a 7:30pm home game versus the Northwest College Trappers.